Now that the Occidental Farmers Market is up and running for the season, we invite you to come check out the newly updated watershed literacy display case near the picnic tables in front of Howard's Station! The display highlights over 15 years of OAEC WATER Institute work with the Dutch Bill Creek Watershed Group towards recovery of coho salmon.
The town of Occidental, CA straddles a saddle between two distinct watersheds: Salmon Creek Watershed and Dutch Bill Creek Watershed, a tributary of the Russian River Basin. Back in June of 2006, dedicated members of the Dutch Bill Creek Watershed Group and the Salmon Creek Watershed Council seized the pedagogical opportunity of this watershed ridge site at the south end of town to educate picnicking visitors with info about Dutchbill Creek on one side of the display and Salmon Creek on the other. In March 2020, the display was renovated with a newly designed map and updated timeline of the groups' efforts to restore and protect coho salmon.
WATER Institute Co-Directors Kate Lundquist and Brock Dolman, along with map co-creator David Berman in front of the new installation. 
Years of community organizing amongst diverse stakeholders and agencies resulted in the formation of the The Russian River Coho Water Resources Partnership. Established in 2009, with funding from the National Fish and Wildlife Foundation and Sonoma Water, the Partnership works to improve streamflow for fish and water supply reliability for human communities in five Russian River streams critical to coho recovery.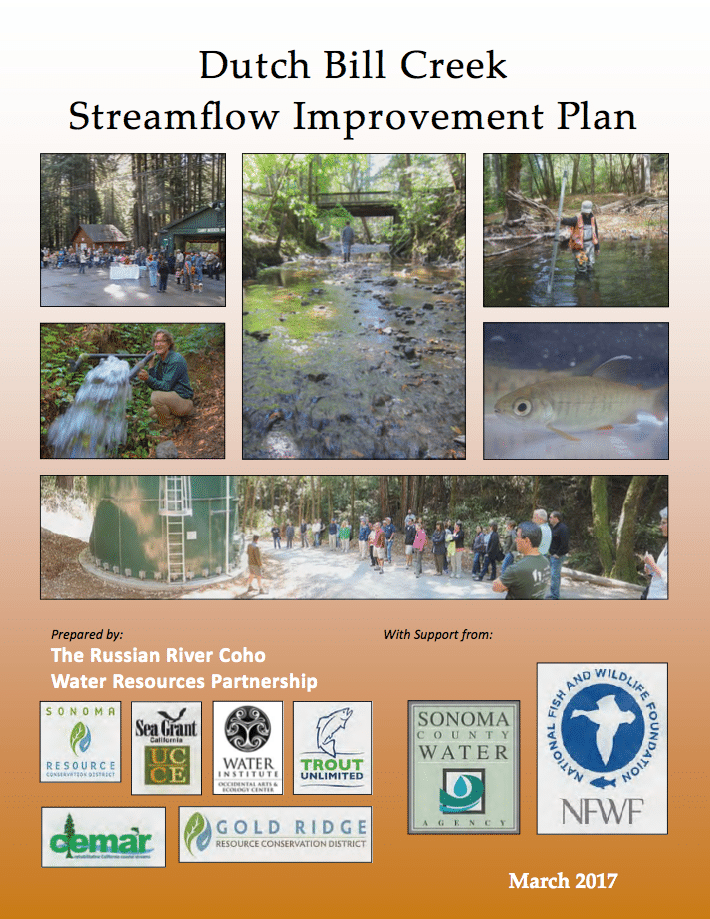 In 2017, the Russian River Coho Water Resources Partnership published the Dutch Bill Creek Streamflow Improvement Plan , a technical document for restoration professionals. The new, upgraded poster for the display was produced by the OAEC WATER Institute as an approachable summary of this document, with infographics and photos geared toward educating the general audience of visitors and locals. It includes maps, coho salmon population data, and most importantly, the history and milestones of community-based restoration efforts with the hopes of inspiring community involvement.
Check out this blog post by Trout Unlimited about this project and other efforts to protect coho in the Russian River or on the WATER Institute page.