Permaculture Design Certification
Permaculture Design Certification (PDC) courses at the Occidental Arts & Ecology Center will immerse you in information, ideas and inspiration on how to design sustainable, regenerative systems that are rooted in justice and in balance with your home ecosystem.
Sign Up!
PDC Spring Session
Hands-on Training March 22 – 29, 2024
PDC Summer Session
Hands-on Training June 6 – 13, 2024
PDC Fall Session
Hands-on Training November 1 – 8, 2024
---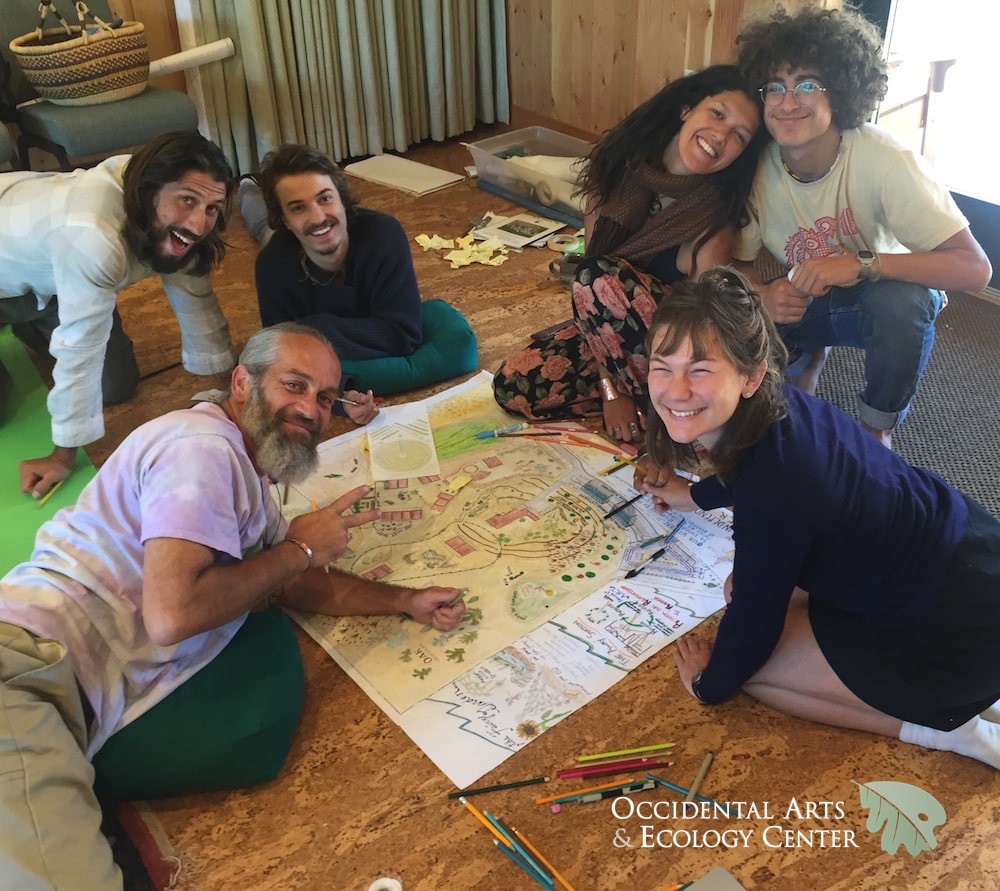 Join OAEC for our new HYBRID courses!
Online self-paced learning
4 weeks
wherever you are in the world
+
Residential hands-on skills and design training
8 days
at the Occidental Arts & Ecology Center
in Sonoma County CA
---
Course Details
Spring Session
Self-Paced Online Learning: February 26 – March 14, 2024
Online sessions Thursdays from 6-7:30 pm, Pacific Standard Time
February 15, 2024 (Orientation)
February 29, 2024
March 14, 2024
Hands-on Training at OAEC: March 22 – 29, 2024
8 days: Friday, March 22nd at 10am through the following Friday, March 29th at 12pm. Includes organic, vegetarian meals and shared accommodations.
---
Summer Session
Self-Paced Online Learning: May 9 – 30, 2024
Online sessions on Thursdays from 6-7:30 pm, Pacific Standard Time
May 9, 2024 (Orientation)
May 16, 2024
May 30, 2024
Hands-on Training at OAEC: June 6 – 22, 2024
8-days: Thursday, June 6th at 10am through the following Thursday, June 22nd at 12pm. Includes organic, vegetarian meals and shared accommodations.
---
Fall Session
Self-Paced Online Learning: September 26 – October 24, 2024
Online sessions on Thursdays from 6-7:30 pm, Pacific Standard Time
September 26, 2024 (Orientation)
October 10, 2024
October 24, 2024
Hands-on Training at OAEC: November 1 – 8, 2024
8-days: Friday, November 1 at 10am through the following Friday, November 8 at 12pm. Includes organic, vegetarian meals and shared accommodations.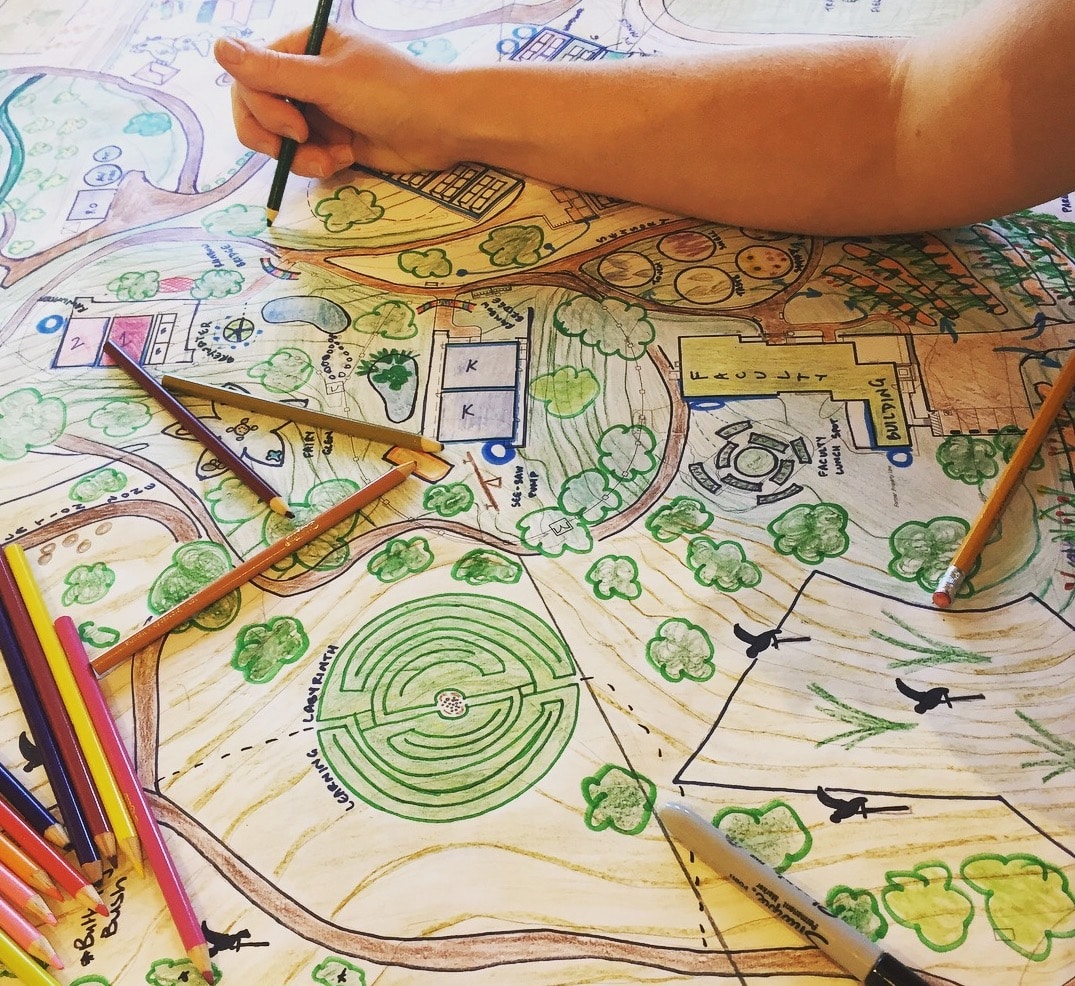 Cost
$2500 is the base cost for individuals, due at the time of registration. Includes shared onsite lodging and organic, vegetarian meals for the 8-day on-site training.
Early-bird discount – $100 off if you register at least 30 days before the start of the course.
Group discounts –$50 off for each person in your team of two or more. (Sign up at the group rate and add your teammates' names on your registration form. And yes, you may combine the early bird with the group discount for a total of $150 off each for up to 4 people.)
Subsidies for Social-Ecological Justice Movement Groups – We partner with a network of organizations to offer courses for groups (not individuals) working on land-based projects centered around social, racial, gender and ecological justice, especially by BIPOC-led organizations. Our funding support allows for these long term collaborations. Unfortunately, we don't have funding to offer additional PDC scholarships at this time. If you belong to one of our existing partner community groups, please contact the OAEC staff person you are working with directly.
We regret that we cannot accept Americorps Education Awards and are unable to offer individual scholarships or work trades at this time.
Cancellation and refund policy – see the registration page for details.
---
WHAT YOU'LL LEARN…
Hybrid Curriculum Preview
For a month before arriving at OAEC, participants will learn foundational permaculture concepts by reading and watching curriculum online. Then students come and spend a week at living and learning at OAEC. Here, participants will undertake a community-based permaculture design project and will have the opportunity to practice a number of hands-on techniques commonly used in regenerative land management such as swales, composting, food forestry, small animal systems, and wildlands management.
The curriculum and learning objectives for OAEC's Permaculture Design Certificate are adapted from the Permaculture Institute of North America's Core Curriculum.
Online Foundations: Participants will read and/or watch four lessons to prepare for the week at OAEC.
You will be required to complete an online quiz at the end of the online portion of the course to make sure that you've completed the readings and have a good handle on the foundational concepts. Being well-versed in the basic principals of permaculture before arriving at OAEC will be key to making the most out of our time together and will allow us to really focus on the application of these concepts.
The material will include:
Introduction to Permaculture
Earth Systems Science
Justice and Ecology Framework
Permaculture Design Process:

Site assessment: map making, pre-site assessment, site assessment
Visioning: client interviews, north star vision, functions, elements
Design Process: Zones, bubble mapping, access, water, food, shelter, community, final project presentation

Climate and Justice
Water Systems
Carbon Cycling
During the In-person Week at OAEC, we will complete the following:
Permaculture Design Project – The class will work with a local community organization and create several permaculture designs that will be presented to them. Teams will undertake site assessment, visioning, and conceptual design during the in-person week.
Hands-on Practices – We will learn how to apply a toolbox of different regenerative land management practices, such as:

Water systems – water infiltration techniques like swales and sheet mulching
Carbon cycling – composting, vermiculture, humanure
Annual gardening – bed prep, planting method, seed saving
Perennial food forest gardening – design, plant selection, planting
Wildlands management – fuel load reduction, brush berms, gully repair
Frequently Asked Questions
What kind of technology will I need?
You will need a computer, access to a reliable high-speed internet connection for the on-line assignments, and a Google account for using Google Docs, Slides, etc. You will also need to download Zoom prior to the orientation meeting. Access to a printer is useful, but not necessary.
How much time should I budget for the online portion?
During the month of online foundations work, you will read and watch online content approximately 4 hours per week. The lessons are self-paced, so you can plan your time according to your own schedule.
Are there any books or materials I will need to purchase?
No. Aside from the technology mentioned above to access the course, all of the necessary information and materials to complete the course are provided. There are books and apps that we suggest but are not required. Here are a few of our recommended (again, not required) readings that you may wish to start delving into as you familiarize your self with the discipline of permaculture:
• Permaculture Design: A Step by Step Guide by Aranya
• How to Grow More Vegetables by John Jeavons
• Rainwater Harvesting for Drylands and Beyond by Brad Lancaster Volume 1
What should I expect during my week at OAEC?
Each day, we will meet from 8:30 am until 8:30 pm doing hands on learning and undertaking the design project.
Participants should come prepared to work outdoors in all weather conditions. Please bring a wide-brimmed sunhat, multiple layers for chilly mornings and evenings outside, sturdy shoes or work boots for gardening, plus work gloves and hand pruners if you have them.
We will have three organic, vegetarian, farm-based meals each day.
Students stay in shared accommodations (2 to 4 people per room – sorry we cannot accommodate requests for individual rooms) and shared bathrooms. Currently, we are offering permaculture students the option to camp in our 80-acre backcountry with a strict no fires policy (If you are interested in camping, please indicate this on the registration form.) While the schedule is fairly packed with course time and field trips, students have access to the hot tub, swimming pond, hiking trails, etc during breaks. See our Visitor Info and Visual Tour pages for more about food, accommodations, parking and other details on what to expect.
What Covid protocols are in place for the residential week at OAEC?
We will be adhering to recommendations from the State of California and our local Sonoma County Department of Public Health, which may change as the course date approaches and the dynamic conditions of this pandemic unfold.
While some of our time together will be spent outdoors in the fresh air where social distancing is possible, participants stay in shared sleeping accommodations and use common indoor spaces such as dining facilities, classrooms, bathrooms etc.
If you are experiencing Covid symptoms, please do not come to OAEC.
OAEC's Office Manager will stay in touch with any updates to OAEC's policy. We appreciate your understanding and collaboration as we navigate how to best support everyone's health during this still-changing pandemic.
---
WHY TAKE THE PERMACULTURE DESIGN COURSE WITH OAEC?
Our Site
Everything we teach in our course is deeply steeped in decades of lived experience on the land and in relationship.
For over 25 years, the Occidental Arts & Ecology Center and onsite intentional community have been tending the land through ecological design on our 80-acre demonstration site and home in western Sonoma County, California. As the longest continuously operating permaculture center in the West, it is considered one of the nation's best examples of a working site that is set up as a holistic, well-functioning organism at every level. This is our classroom. There are a wide array of integrated systems in action here that students have the opportunity to interact with – grey water, roof water catchment, composting toilets, erosion control and storm water management, seed bank, food forests and biointensive gardens, Wildlands tending and restoration, natural building, etc., in addition to innovative structures of self-governance in community. We've experimented with lots of ideas over the years and many of them failed – students get the benefit of learning from our mistakes!
In addition to the hands-on learning that our site provides, students also get to taste the fruits of the land including delicious organic vegetarian meals based on produce from the OAEC garden and orchards. Students stay in comfy eco-dwellings and can enjoy other amenities such as our hot tub, sauna, hiking trails and swimming pond. Watch the visual tour of our retreat facilities.
Our Approach
We have translated hard-learned lessons from the land and our relationships into a design methodology that empowers you to not only Do-It-Yourself but to Think-It-Yourself; to apply elegant theory to the complexities of real places and people.
We teach Resilient Community Design – where ecosystem meets 'ego-system.' In this course, you will get to practice skills in group process, democratic decision-making, and self-governance as you work with your small design group. We practice what we call "public permaculture." The ethics of "Earth Care, People Care, Fair Share" are baked into the course structure as the design practicum is focused on creating a design for a local community group. Past Permaculture courses have co-created designs with organizations such as: The Cultural Conservancy, Saint Steven's Church, Occidental Center for the Arts, Northwest Prep School, and more.
Our work comes out of years of community organizing at the inextricable juncture of social justice and ecology and a long-standing history with the Movement Generation Justice and Ecology Project. From a systems theory perspective that is rooted in justice, this course will help you identify false solutions and understand that true sustainability requires uprooting systems of oppression at every level. We will examine historical legacies and current legal, financial, cultural violence that separates people from the land and incentivizes unethical land management. We will focus on ways to legalize sustainability at the policy level and build 'infrastructures of justice' on the ground in our homes and communities.
Our certification program is accredited by the Permaculture Institute of North America (PINA).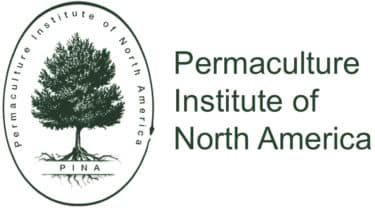 Our People
Go deep into regenerative thinking with Program Directors Brock Dolman and Kendall Dunnigan. In addition to high-profile speaking engagements and successfully guiding countless groups through design processes around the world, Brock and Kendall are skilled facilitators who have been recognized for excellence in the field as senior PINA Diplomats for their extensive experience in Education and Site Design. We are incredibly lucky and honored to have a deep bench of guest instructors who bring a wealth and diversity of perspectives, expertise and case studies to the table. Bios below.
AND YOU! Our PDC grads have gone on to become powerhouse agents of change in their home communities as policy-makers, landscapers, land-use agency professionals, farmers, students, social justice advocates, philanthropists, researchers, artists, educators and more. You'll join a network of over 1,500 OAEC alumni, many of whom have formed lifelong connections through this process.
We encourage community leaders interested in spearheading a design initiative to attend with 2-4 other team members. Group discounts available (see registration page for details.)
---
Facilitators
Permaculture Activist Magazine calls the Occidental Arts & Ecology Center PDC "a certification course presented by a winning team of California's most experienced teachers."
Program Director
Brock Dolman (He/Him) co-directs the WATER Institute, Permaculture Design Program and Wildlands Program. He has taught Permaculture and consulted on regenerative project design and implementation internationally in Costa Rica, Ecuador, U.S. Virgin Islands, Spain, Brazil, China, Canada, Zimbabwe, Tanzania, Democratic Republic of Congo, Cuba and widely in the U.S. .
Program Director
Kendall Dunnigan (She/Her) is the Director of the Occidental Arts & Ecology Center's Permaculture Program and co-teaches the Permaculture Design Certification courses with Brock Dolman. Her ecological design work focuses on facilitating collaborative design processes with priority given to working with economically and environmentally marginalized communities in the US, Latin America, and Haiti…
TESTIMONIALS
"Thank you for giving me the roadmap back to right relations with the earth. After decades of schooling on engineering our environments and 'reducing impact,' the PDC has ignited an intuitive capacity to observe, imagine and act with integrity and humility. Regenerate, we will!"
"I appreciated the emphasis on social permaculture and the importance of communication within community. OAEC is a great living experiment to witness."
"The course exceeded my expectations. I see and think differently now. I think the concept of humans co-evolving with nature was my biggest take away. I felt like I was relearning skills and an intimate way of seeing that I used to know as a kid roaming the forest – that my initial intuition had been right all along before I got bombarded with our consumerist society. I have so much to think about."