While the gardens at OAEC offer a model for the eco=home ethos where ideas are put to the test, the ultimate goal of OAEC is to affect change on a larger scale. The Mother Garden disseminates seeds, both physical and inspirational, to "daughter gardens" throughout California. Plant sales, seed exchanges, school garden teacher trainings, internships, permaculture courses, and collaborations with major food, farming, social and ecological justice organizations throughout the country are among the myriad of ways that the Mother Garden shares her abundance. Here are a few examples of daughter gardens that are flourishing out in the world…
Food for Thought Food Bank Garden
1994 – present
For over 25 years, OAEC has had a deep collaboration with Food For Thought (FFT), a food bank in Forestville that serves over 700 clients living with HIV/AIDS and other critical illnesses. After many years of volunteering with FFT, Doug Gosling, OAEC's Mother Garden Biodiversity Program Director, helped to establish the garden there in 1999 and steadfastly managed and maintained this robust one-acre plot with the help of a dedicated team of FFT volunteers till 2019. OAEC furnished the Food Bank with seeds, starts, labor and inspiration for so many years, and thus, the OAEC Mother Garden Biodiversity Program considers the Food for Thought garden to be its most important "daughter garden!"
Evolutionary Wheat Breeding Project
2016-2018
What will the climate be like 20 years from now?   How can we breed food crops that will thrive and adapt to change?   
With an increasingly unstable climate, continued collapse of agricultural biodiversity, and the seed supply more and more controlled by giant corporations, OAEC is mixing and planting together over 2,000 varieties of bread wheat from all over the world, in collaboration with local Sonoma County farms and gardens. This process is called "Evolutionary Plant Breeding," with a goal of creating unique, place-adapted, resilient mixtures of our most important food crops, to increase and expand agricultural biodiversity, put seed breeding back into the hands of farmers and gardeners, and create a seed supply that can thrive in a changing climate.
Pictured here: Shone Farm Manager, Leonard Diggs, standing next to a plot of the wheat mixture grown out in 2018 at Santa Rosa Junior College.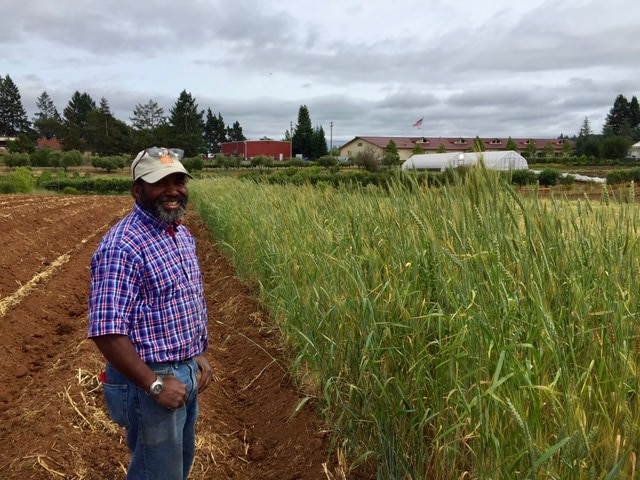 Federated Indians of Graton Rancheria
Since 2007, the Federated Indians of Graton Rancheria (FIGR) and OAEC have collaborated to explore principles of ecology, traditional ecological knowledge, and native flora and fauna in our Wildlands Preserve with the goal of becoming better practitioners of cultural regeneration and biological restoration. Over the past years, OAEC has supported FIGR in their work to develop plans for Tolay Regional Park, an 1,800-acre site that is one of the most sacred places in the Tribe's ancestral lands, and has facilitated tribal citizens in designing a new community organic garden using Resilient Community Design. OAEC has also hosted FIGR's family camp as well as organic gardening and nutrition classes here on the land.