The WATER Institute engages in the following projects and collaborations to empower individuals and communities to become environmental stewards, preserve biodiversity, develop resiliency to climate change and improve watershed health.
Beaver Back Saver Device
2020 – Present
Designed by the US Fish and Wildlife Service staff at the Sutter National Wildlife Refuge, this simple yet elegant design saves time and money by preventing beavers from blocking water control structures. This device has the potential to save wetland managers hundreds of hours a year while reducing the need to lethally manage the beavers. By implementing this low-cost co-existence strategy, we can receive the wetland habitat benefits the beavers provide while avoiding the hassles they can create.
Restoration Collaboration with Maidu Summit Consortium
2018 to present
OAEC has been working with the Maidu Summit Consortium (MSC) since 2018 in collaboration with other partners to support tribal members in planning for and implementing innovative restoration practices on their ancestral lands at Tásmam Koyóm, including the development of a beaver recruitment strategy.
Beaver Co-existence in Fryer Creek
April 2020 – present
In collaboration with Sonoma Water and Swift Water Design, the OAEC WATER Institute facilitated the installation of a pond-leveler device in the East Fork of Fryer Creek in the city of Sonoma. The device will allow beaver to maintain their lodge and the associated ecological benefits while managing excessive flooding. Prunuske Chatham Inc. has been brought onto the project to conduct hydraulic modeling for Fryer Creek and work with OAEC and Swift Water Design to create beaver management protocols for all riparian areas under of Sonoma Water's management.
Compost Toilet Research Project
2014-present
Project update 9/28/2016 – After 2 years of negotiations, OAEC is excited to partner with our county and regional agencies with the acquisition of an "Alternate Methods and Materials" research permit to install and trial composting toilet systems in our beautiful new guest accommodations as part of our Conservation Hydrology Demonstration Site.  We believe that composting toilets promise an age-old/cutting-edge solution to the most pressing environmental issues of our time including water quality and quantity, peak energy, and soil degradation. We are so thrilled to utilize our site, knowledge and community network to help usher composting toilets into widespread adoption.
The aim of this collaborative project is to work side-by-side with regulators to evaluate this technology for multi-unit and medium-scale commercial facilities, such as hotels and apartment buildings. Since the majority of our growing population lives in dense, urban settings, this is where solutions will have the greatest impact and where research is most needed. With the help of soil scientists from UC Davis and Stanford, the compost will be laboratory tested for pathogens, nutrient content and other contaminants. When research concludes, we will prepare a technical report of findings to present to our Sonoma County partner agencies. We hope to provide the hard data they need to make informed policy decisions that guarantee both public health and ecological integrity.
Bring Back the Beaver Campaign
2009-Present
North American beaver (Castor canadensis) are what biologists call a "keystone species" as the habitat they create benefits many other species. Their dams improve water quantity and quality, increase late season flow and reduce the impacts of flooding. Beaver bank burrows and food caches provide critical habitat for many native and endangered California species. Despite these benefits, current California beaver policy solely focuses on recreational hunting and lethal nuisance management. In response, the WATER Institute launched a Bring Back the Beaver Campaign to educate citizens about the importance of beaver. In order to improve water supply for humans and the environment and increase resilience to drought and climate change, we are working to integrate their management into California policy and regulation.
To learn more, contact Kate Lundquist (ext. 118) or Brock Dolman (ext. 106).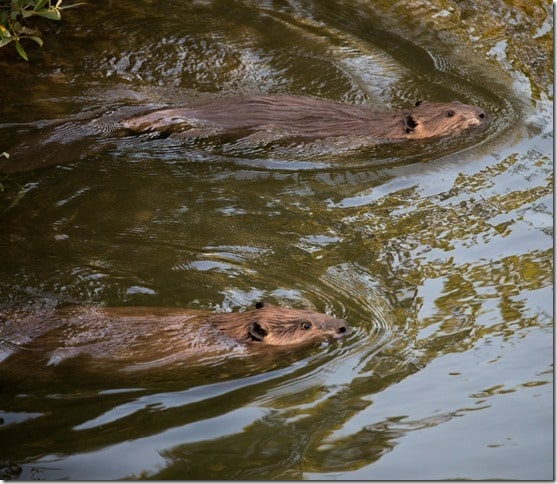 El Dorado Hills Beaver Stewardship
2018-present
In 2018, the American Rivers Conservancy (ARC) contacted the WATER Institute about helping with a particular beaver issue in the Creekside Greens neighborhood of the El Dorado Hills. Beaver had been building a dam in the creek and it was starting to flood a popular greenbelt walking path. They wanted to know if there was a non-lethal alternative to kill trapping.  The answer is YES!  Learn what we did …
OAEC's Conservation Hydrology Demonstration Site
1994-Present
For nearly 40 years, OAEC's 80-acre site of organic gardens, orchards, meadows, and forests has served as an ideal outdoor classroom to teach and model Conservation Hydrology and watershed health. Since 2004, OAEC's WATER Institute has implemented an on-site Conservation Hydrology Adaptive Management Plan that demonstrates renewable energy technologies and best management and conservation practices for water, and for the energy associated with its use.
These practical solutions include greywater systems, micro-hydro generated electricity, roof water catchment systems, a rainwater harvesting off-stream pond that supplies 100% of our agricultural irrigation needs, a solar thermal hot water system, bio-filtration to improve water quality, and a 10-kilowatt solar photovoltaic system. Installing and studying the efficacy of these techniques over time allows us to improve our designs and speak from experience when educating communities about how to best adapt these practices to their regions.
What is "Conservation Hydrology"?
Decentralized Water Policy Council
2014 – Present
now called: California Onsite Water Association (COWA)
In 2014, the OAEC WATER Institute, Sierra Watershed Progressive, representatives from regulatory agencies such as Sonoma County PRMD, and others, came together to launch a policy initiative designed to localize California's waters – The Decentralized Water Policy Council.  The Council brought together allies working to increase water efficiency and reuse in commercial and residential settings throughout California.  In 2017, the DWPC transitioned to the California Onsite Water Association (COWA).
COWA supports a collaboration of multiple stake-holder water activists, engineers, regulators and practitioners committed to removing barriers to reusing and conserving water onsite in all our land use activities.  This coalition convenes the annual Localizing California Waters Conference and creates effective integrated water management strategies through decentralized water projects and working committees that accomplish policy goals.
Legalizing and removing barriers to protect water is one of OAEC's strategies for change.
Salmon Creek Habitat Restoration Program
2004-Present
A comprehensive study of the Salmon Creek Estuary was completed by the Occidental Arts and Ecology Center's WATER Institute and Prunuske Chatham Inc. in 2006 with funding from the State Coastal Conservancy. The objective of the study was to assess the factors affecting estuarine function and its value as salmonid habitat.
In the fall of 2011, The WATER Institute collaborated with UC Berkeley Ph.D. candidate Cleo Woefle-Erskine to support his research to investigate whether home-scale rainwater harvesting could put more water back in streams like Salmon Creek. See an intital report on this research entitled, "Do salmon want humans to harvest rain? A GIS exploration."
California Roundtable on Water and Food Supply
2011-Present
The WATER Institute is a founding member of The California Roundtable on Water and Food Supply (CRWFS), a consensus-based forum for thought leaders to uncover obstacles, identify solutions, and take action to enhance water security for agriculture, the public and the environment.
Russian River Coho Water Resources Partnership
2010-Present
The WATER Institute is a founding steering committee member of this partnership that is developing a systematic approach to improve streamflow and water supply reliability in five Russian River tributaries critical to the recovery of endangered coho salmon. For more information, visit the Russian River Coho Water Resources website.
Bodega Valley Rainwater Catchment & Alternative Water Supply Program
2000 – 2010
The WATER Institute is one of several partners who helped conceive of and implement this multi-pronged, community-based program to provide enhanced water security for residents and help restore streamflows in Bodega, California. Read more about this program here (PDF).
Salmon Creek Water Conservation Program
2006-Present
The WATER Institute is a founding member of the Salmon Creek Water Conservation Program which has been working in the Salmon Creek watershed to educate residents, landowners and citizen activists about watershed conservation since 2000. Learn more about the Salmon Creek Watershed.
The Salmon Creek Water Conservation Program was developed out of the recognized need to increase dry season instream flows. Successive years of drought and increased water demand pressures are taking a toll on the creeks and on the watershed's ability to supply sufficient, high quality water. Juvenile salmon and steelhead trout need cold, flowing water to survive the summer. Many stretches of our creeks are going dry and the fish are dying
Sonoma County Watershed and Creek Road Signs and Salmon Creek Flow Signs Projects
2006-2007
The Southern Sonoma County Resource Consevation District's Creek Sign Guide is available online. Download this how-to guide on getting watershed and creek signs installed in your community.
WATER Institute staff in collaboration with the West County Watershed Network, Southern Sonoma RCD and County Supervisors Mike Reilly and Mike Kearns were funded by the California Coastal Conservancy to implement the West & South Sonoma County Watershed and Creek Signage Pilot Project. Numerous signs throughout the western and southern regions of the county were installed in 2006.
Watershed Divide Display Case in Occidental
June 2006 to Present
In Western Sonoma County, the location of the town of Occidental straddles a saddle between two distinct watersheds, Salmon Creek Watershed and Dutch Bill Creek Watershed, a tributary of the Russian River Basin. The town is bisected by what is called a watershed ridge divide which roughly runs through the south end of town, where the picnic tables sit in front of Howard's Station.  Dedicated members of the Dutch Bill Creek Watershed Group and the Salmon Creek Watershed Council seized the opportunity of this site to educate picnicking visitors and locals.
Back in June of 2006, they unveiled the fruits of their hard labor in the form of a watershed literacy interpretive display case. In March 2020, the display was renovated with a newly designed map and updated timeline of the groups' efforts to restore and protect Coho salmon.