Evolutionary Wheat Breeding Project
2016-2018
What will the climate be like 20 years from now?  
How can we breed food crops that will thrive and adapt to change?   
With an increasingly unstable climate, continued collapse of agricultural biodiversity, and the seed supply more and more controlled by giant corporations, OAEC is mixing and planting together over 2,000 varieties of bread wheat from all over the world, in collaboration with local Sonoma County farms and gardens. This process is called "Evolutionary Plant Breeding," with a goal of creating unique, place-adapted, resilient mixtures of our most important food crops, to increase and expand agricultural biodiversity, put seed breeding back into the hands of farmers and gardeners, and create a seed supply that can thrive in a changing climate.
Pictured here: Shone Farm Manager, Leonard Diggs, standing next to a plot of the wheat mixture grown out in 2018 at Santa Rosa Junior College.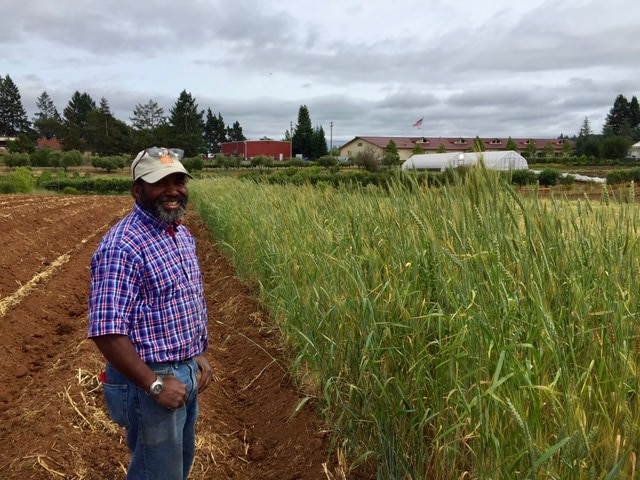 What is Evolutionary Plant Breeding?
Farmers around the world are participating in a process called Evolutionary Plant Breeding (EPB) to develop new varieties of food crops that will thrive and adapt to a changing climate.  With EPB, farmers gather and mix seeds from hundreds to thousands of different varieties of a food crop that is culturally, ecologically and nutritionally important to their place.  Farmers then plant the seed mixtures in their fields each year, creating a living, evolving gene bank that will adapt over time to the local climate and agricultural practices through the process of natural selection. In addition to harvesting the mixture for sustenance and market (trials in the Middle East and Italy have shown that bread made from diverse mixtures of bread wheat can reduce or even eliminate gluten-intolerance), farmers can select out of the mixture individual varieties to grow out as new, locally-unique varieties that have improved genetics and adaptations from the mixture.
For over 20 years, OAEC has curated, evolved, and shared a collection of over 2,000 open-pollinated seeds of regionally-appropriate food, medicinal, fiber, and herbal crops towards preserving and cultivating biodiversity. In contrast, industrial seed breeding, especially of our most nutritionally and culturally important food crops (i.e. wheat, maize, and rice), has focused on uniformity and stability across broad and diverse bioregions – creating a crisis of resilience in our seed systems in a time of profound climatic instability.  OAEC's Wheat EPB project is a response to this industrial seed breeding paradigm.
Potential Benefits of Evolutionary Plant Breeding
Increases Biodiversity
produces new varieties which are unique to each location
Enhances Agricultural Resilience to Climate Change
an inexpensive, dynamic, and fast way of adapting crops to a changing climate through natural selection
Ideal for Organic Agriculture
fits crops to the Environment rather than modifying the environment and therefore is ideal for organic conditions
Decreases Crop Vulnerability
diverse seed mixtures better resist weeds, diseases, pests and natural disasters
Rejects Ownership of Life
evolutionary populations are not patentable
Maintains Seed Vitality
gets seeds out of seed banks and into farmers' fields
Returns Seed Breeding and Selection to Farmers and Gardeners
puts control back into the hands of farmers and gardeners, and away from multi-national corporations
Decentralizes the Seed Supply
supports local seed systems and encourages farmer participation
About the Project
In 2016, OAEC's Cooper Freeman, obtained over 550 varieties of winter bread wheat from the USDA seed bank, mixed them together, and planted the mixture in 4 different plots around Sonoma County – here in our home North Garden in Occidental, at the Federated Indians of Graton Rancheria tribal garden in Rohnert Park, the Northwest Prep Charter School garden in north Santa Rosa, and the Bayer Farm Neighborhood Park and Garden in the Roseland district of Santa Rosa. After a successful harvest of the wheat mixture in 2017, OAEC hosted scientist and consultant to our project Dr. Salvatore Ceccarelli to present on his international EPB work.
Above:  On Tuesday, August 15th, 2017 we were honored to host ICARDA scientist Dr. Salvatore Ceccarelli, a leading international innovator in this field.  He gave a talk on participatory and evolutionary plant breeding for a group of our friends and collaborators in the seed-sovereignty/seed-saving movement here in Sonoma County. Stories from his work in arid regions in the Middle East & North Africa pointed to a hopeful vision for the future of democratic, farmer-led seed improvement programs in the face of rapid climate change in drought-affected communities such as ours.  Click here and here to read more about his inspiring research.  There is major international interest in funding this important work.  Watch this video to learn more.
This informative meeting with Salvatore led to increased interest in growing our wheat mixture from several at-scale local farms. Cooper then selected an additional 1,500 varieties from the USDA seed bank and small, independent seed companies to add to the mixture, bringing the total number of varieties to over 2,000. This expanded mixture was planted in 2017 for the 2018 harvest by local farms and gardens including Santa Rosa Junior College Shone Farm, DaVero Vineyards, and Bayer Farm Neighborhood Garden.
Currently, we have harvested over 150lbs of the seed mixture and are working with a local bread maker to sample the wheat mixture for taste. Cooper, Leonard, and journalist Mark Shapiro presented on this project at the 2018 Bioneers Conference in a panel discussion entitled: Evolutionary Plant Breeding: Breeding Crops for Climate Change.
Click on the maps below for more details…