Cameron Conklin
Office Manager
Cameron (they/them) currently serves as the Office Manager of OAEC, working to improve and maintain the invisible structures and communications systems that keep OAEC running smoothly. Cameron came to OAEC as a Program Admin Intern in 2022, having previously served as an Apprentice at Rancho Mastatal in 2021. This 2 year stint of living and working at land-based organizations, a self declared Masters in Permaculture and Communal Living, represents a life commitment to integrating their production and consumption cycles more rootedly to place and purpose.
Prior to this transition, Cameron was a founding employee of a start-up beverage company called Iconic Protein, focusing on operations and supply chain management. It was this work that ultimately set them on the path towards OAEC as they reassessed their relationship to food, land, and procurement. Cameron is excited to bring a systems thinking background and communication focused approach to nurturing relationships and solving problems to their role at OAEC, enabling them to serve an important function of building a stronger mycelial network within the ego-system of the organization. 
On Staff Since: 2023 Email > Phone: x103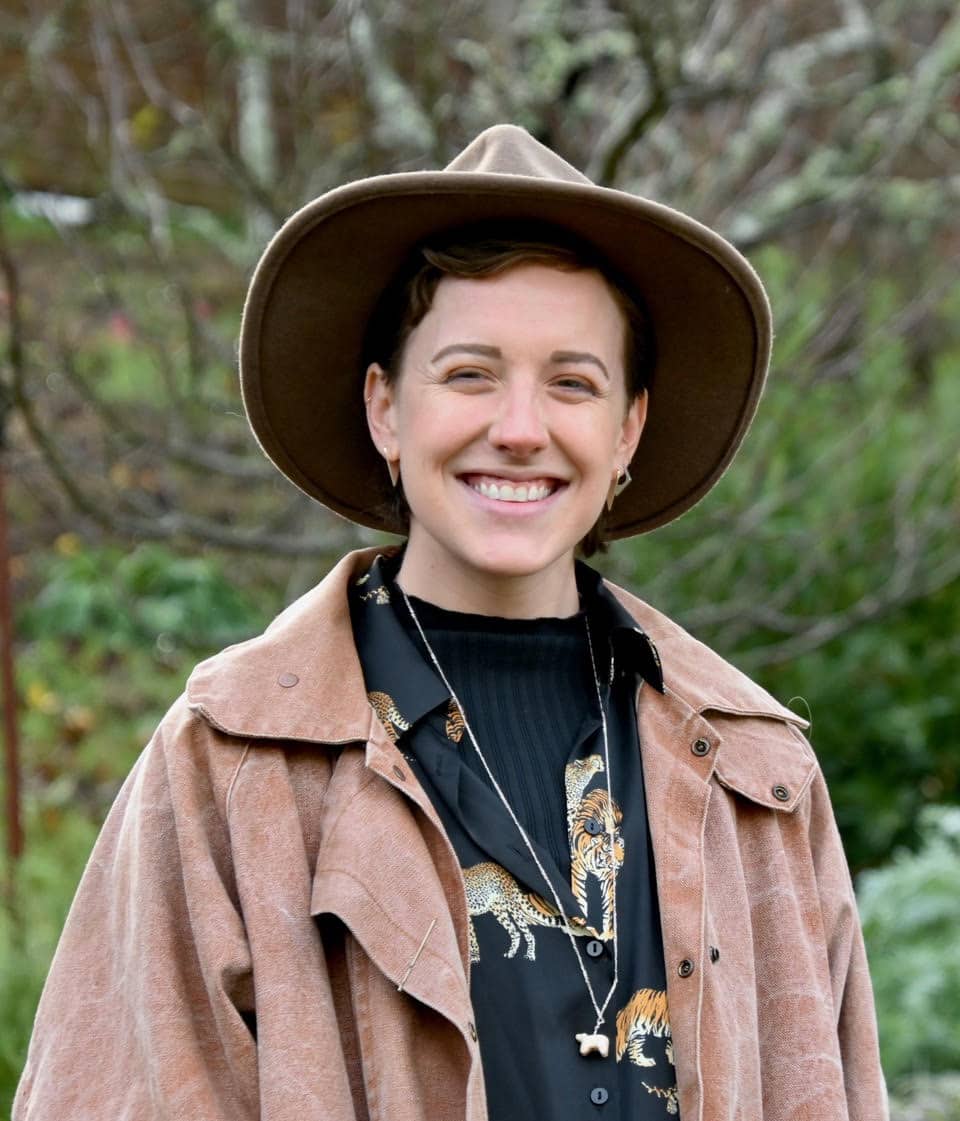 In Their Own Words
My work at OAEC:
As Office Manager I serve as the coordinator for the Residential Intern Program, oversee the front facing/customer service experience, oversee Program Admin Interns, produce events, work to maintain and improve our internal communication pathways and software systems, work closely with the Comms Director to execute external communication efforts, and support OAEC Programs from an ops perspective. 
My background:
My early years were spent with a bent towards exploration, both by circumstance and constitution. I was born in Baltimore, MD, but grew up living coast to coast through childhood. I landed in New Orleans, receiving my undergraduate degree in International Political Economy, Communication and Architecture from Tulane University in 2014. I have lived in or visited almost all U.S. states and over 30 countries, from places as remote as Pom Pom Island, Malaysia, as a Divemaster working on coral reef restoration with the Tropical Research and Conservation Center, to traveling for a year around the U.S. in my van. I am grateful for the adventures and adaptability my background has brought me, and I am simultaneously excited to be transitioning from this place of exploration towards cultivation of a more rooted lived experience.
My passions:
In 2021 I co-founded an organization called Integra Collective – a network of environmental change makers working to heal the human/Earth relationship. Through this collective I deepen into my love for production and creating spaces for individuals to share their talents and passions in community. My personal studies center around interpersonal communication, facilitation, queer and kink expression, dance, and using my wardrobe as my daily creative canvas. 

Why my work matters:
My work enables the myriad of people, programs, and dreams intersecting and interweaving through this organization to happen, by establishing an effective, safe, and loving container for work to occur. It's been said this role is a swiss army knife of sorts, taking care of the little pieces that might be left behind and receiving, retaining, and redistributing information through the org. By keeping a beat on the emotional body and needs of the staff collective as a whole, I am able to help us all work more effectively together. 
My favorite resiliency resource: